The eStore menus will display Item Categories across the top of the screen as displayed below:

If you highlight one of the menu items along the top, you will see a sub-menu for all items in that item category, as displayed below: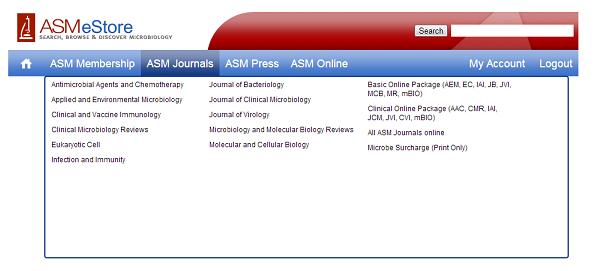 To set Item Categories for menu items, login and click on ADMIN. Then click MANAGE ADD-ONS, ESTORE, and ITEM CATEGORIES. This will show a list of all item categories currently in the system. To add a new category click ADD or click on the paper/pencil icon next to a record to edit it. Here you can set the record name, make it active, enter a description, set a parent category (there will be no parent category for the main menu items, but for sub-menu items, the parent category will be ASM Membership, ASM Journals, etc.) and also set a sort order (to specify the order of menu items). Click OK to save changes.
If you click on the main menu category, you will see all featured items in that category and other items in that main category that are not assigned to one of the sub-categories (like those shown on the screen above).