Add the Twitter Add-on to your site to update your tweets or display your tweets from your account, or any account.
How to Install the Twitter Add-On
Click here for information on Installing Add-Ons.
How to Configure the Twitter Add-On
Configuration is only necessary if you plan to add tweets from your site. Otherwise add tweets directly from Twitter.
To configure the Twitter Add-on login as an administrator. Click on ADMIN HOME. From the menu on the left click MANAGE ADD-ONS, TWITTER and TWITTER CONFIGURATION. Enter your Twitter username and password. Click OK to save your changes.
How to Add A List of Tweets to a Webpage
Go to the webpage where you want your tweets to appear. Login and click EDIT and then click on the paper/pencil icon. Put your cursor in the Copy section and click on the TWEETS add-on from the drop down list as shown below: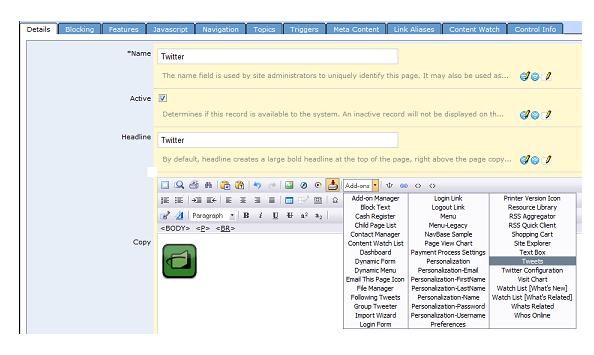 Next, view the page with ADVANCED EDIT enabled and click on the WRENCH in the menu bar. Enter the Twitter account name you want to display and hit UPDATE.
How to Add New Tweets
Login and click ADMIN HOME. Click TOOLS, then TWEET TOOL. If you have configured your twitter account in the Twitter Configuration, you can type in the text for your tweet and then click POST TWEET.
This is called a Group Tweet because once this add-on is configured, anyone with admin site access can add tweets to your account.