Shopping Cart Review
When you click on CHECKOUT, you will have the opportunity to review and edit items and contact information in the shopping cart.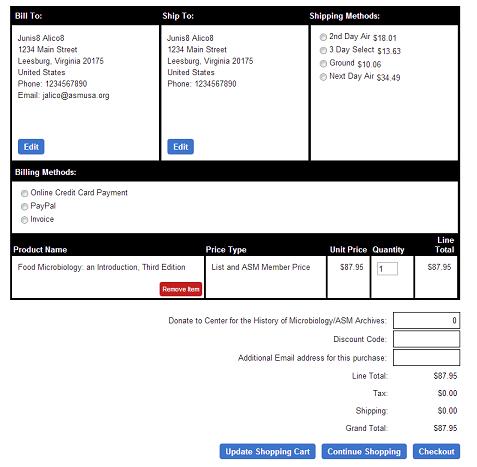 Before you finalize your purchase, you have the opportunity to make changes, including:
Changing billing or shipping information by clicking on EDIT in the appropriate section.

Selecting a shipping method from the available choices by clicking on the desired method.

Choosing the desired billing method by clicking on one of the options.

Removing an item from the shopping cart by clicking on REMOVE ITEM next to the item you want to delete.

Changing the quantity for an item by changing the number in the QUANTITY column. This feature is only available for ASM PRESS items.
Once you have made any changes, click UPDATE SHOPPING CART to update the pricing information. You also have the option to CONTINUE SHOPPING if you want to purchase additional items.


Payment Page
When all items have been added to your order and all information has been edited, click on CHECKOUT to finalize your order. You will see the following screen when you choose credit card as the payment method: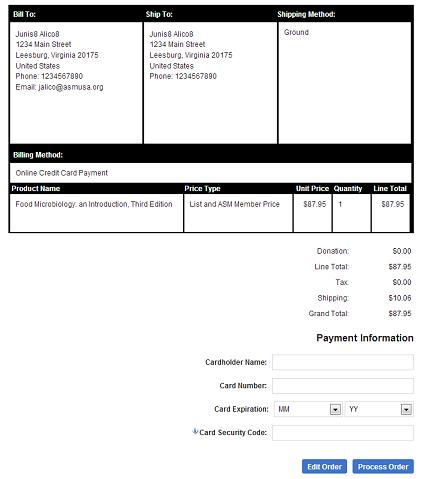 Here you will enter your name, card number, card expiration date and card security code and then select PROCESS ORDER to complete your order. Or, if you want to make changes to your order, click EDIT ORDER to return to the previous screen.
If you select PayPal as your payment option, you will be directed to the PayPal website to login and pay via PayPal, after you hit PROCESS ORDER.
If you select Invoice as your payment method, you will see the following screen: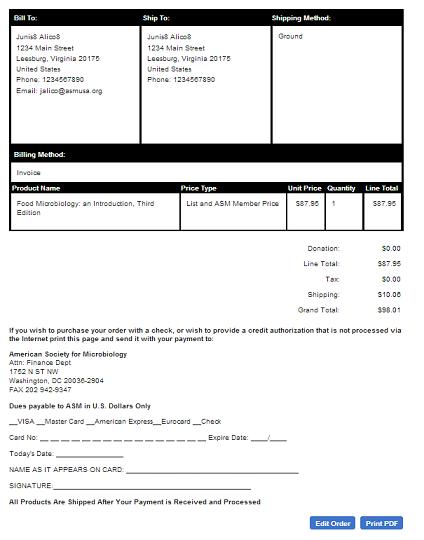 From this screen you can choose EDIT ORDER to make changes to your order or PRINT PDF, which will print a copy of the invoice you see. You will then mail in the invoice per the instructions on the page. Your order will not be finalized until the invoice is received and processed by ASM.