The home page slider displays several images with copy in the middle of the home page. Each slider can have a link to a specific page with more details. A sample slide is shown below: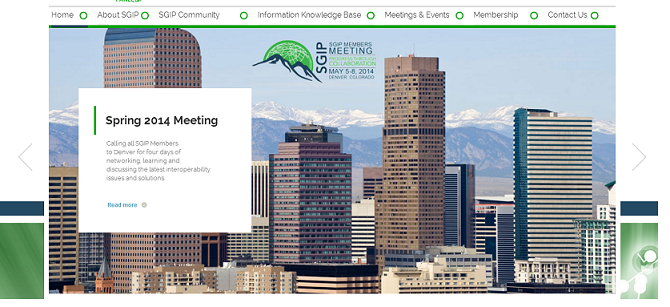 Adding/Editing Slider Images and Text
In order to add new slider images, login and click ADMIN. Next click MANAGE ADD-ONS, SGIP and then SGIP SLIDER CONTENT. You will then see a list of all sliders already entered. To edit one, click on the paper/pencil icon next to the slider name. To add a new slider image, click on ADD. This will open a new record where you can enter the record name, specify the sort order, upload an image, enter copy to be included on the slide, and specify the page that the slide links to when someone clicks on READ MORE. Click OK to save changes when you are done.
NOTE: The image should be 1160 x 552.
Logos Included in the bottom slider
In order to include a member's logo in the bottom slider, go to the ORGANIZATION record by logging in and clicking on ADMIN, then MANAGE USERS and finally ORGANIZATIONS. Click the paper/pencil icon next to the organization and scroll to the bottom of the page until you see the IMAGE field. Click on CHOOSE FILE to upload the logo to the organization record. Click OK to save changes.