The SGIP Membership Directory will display all member organizations included in the database. To change information about a member organization, login and click on ADMIN, MANAGE USERS and ORGANIZATIONS. Open the record for the organization, make changes and click OK to save them.
(NOTE: For an organization to appear in the Membership Directory, it must be an ACTIVE organization record, the MEMBERSHIP CLASS field must be set and the organization must have a STAKEHOLDER CATEGORY set.)
The member list can be sorted by Organization Name, Membership Type or Stakeholder Category by selecting the desired sort field from the drop down menu. Below is a sample of how the directory will display: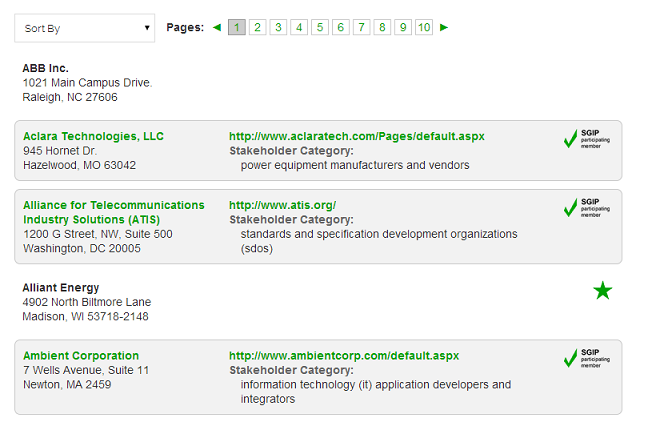 Founding members get a Founding Member Star.
Observing Members display company name and address only, and no links are provided to further details.
Participating Members get highlighted and boxed information with the Participating Member ?seal?, and a link to the company's website and a page with more details (a sample is provided below).
Information on this screen is displayed from details included in the organization record. To remove an organization from the directory, you could uncheck the ACTIVE field to make them inactive.