There are two automatic image control options in the Contensive Resource Library, Image Updating and Image Resizing.
Image Updating
When enabled through the Preferences page, images that are updated in the resource library are automatically updated throughout the site.

Image Resizing
When enabled, you can resize images by stretching or shrinking images in the wysiwyg editor and saving. Contensive automatically creates a new image that is the correct size.
To allow for images to be automatically updated or resized in the Resource Library, login and go to the ADMIN HOME page. Click on Settings and then Preferences on the left side of your screen, as shown below: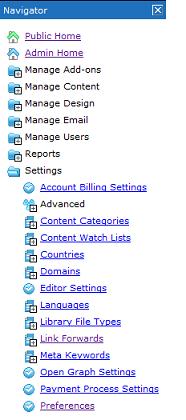 Next, click on the Resources Tab on the right side of your screen (image below). Check the boxes next to Allow Image Resize and Allow Image Update if you want images to be automatically changed in the Resource Library when changes are made to them on a specific web page. You will also choose the method used for resizing. See the explanation below for the various options available. Make sure that you click OK when you are done to save your changes.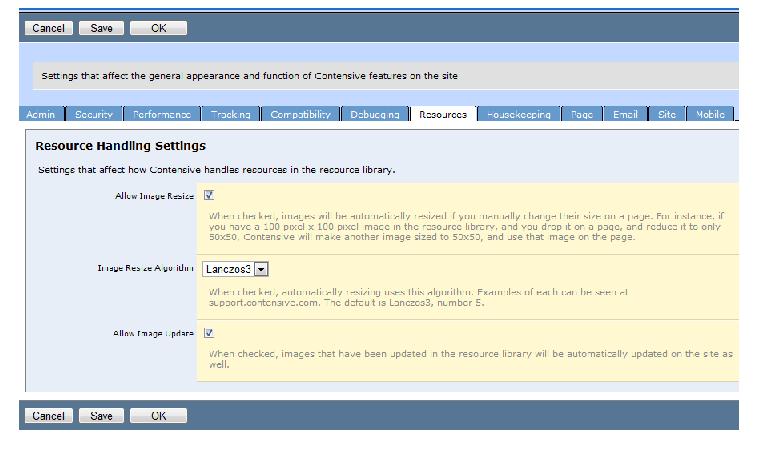 The method used to resize can be selected through the Preferences settings page. The following is a list of sample images resized with the algorithm options

| | | |
| --- | --- | --- |
| Image | Name | Index |
| | Box | 0 |
| | Triangle | 1 |
| | Hermite | 2 |
| | Bell | 3 |
| | B-Spline | 4 |
| | Lanczos3 | 5 |
| | Mitchell | 6 |
| | Stretch | 7 |