The REPORTS tab lists all tickets that have been completed and approved for invoicing. When you click on this tab, you will first see a tab for daily reporting, which lists all loads for a customer selected on the specified date. To export this information to a CSV file, click EXPORT.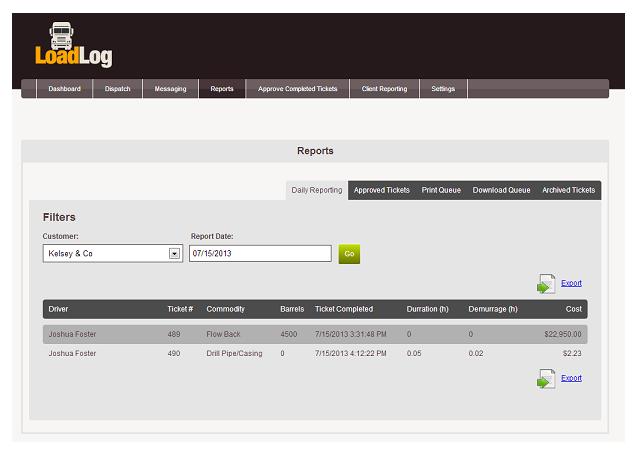 You will also see tabs for approved tickets, the print queue, download queue and archived tickets. Click on one of these tabs and you can choose to print or download the invoice for one or multiple tickets, or you can archive any tickets.
Click the box next to the invoice that you want to print, download and/or archive and then hit APPLY.
You will then click on the PRINT QUEUE to print the invoice, the DOWNLOAD QUEUE to download the invoice, or ARCHIVED TICKETS to see tickets that have been ARCHIVED. When you click on the PRINT or DOWNLOAD QUEUE, you will see READY in the status field when the print or download is finished processing. Click on READY to print or download the invoice. If you are done with an invoice and want to delete it from your print or download queue, click the box next to the invoice and then click UPDATE QUEUE.