This screen shows all of the invoices the system has generated daily per customer. The default is to display 20 records (paginated). The columns are searchable by typing a search phrase in the box at the bottom of the column and clicking SEARCH.
Click on the Invoice numbers to see the details of the invoice. All tickets associated to an individual Customer will be added as a line item in the invoice showing the number of barrels, the type of commodity, the date/time and cost (# of barrels X commodity type price), a line for discount (if applicable) and the total price for all tickets.
Every 24 hours a process will run that tallies the previous day?s tickets.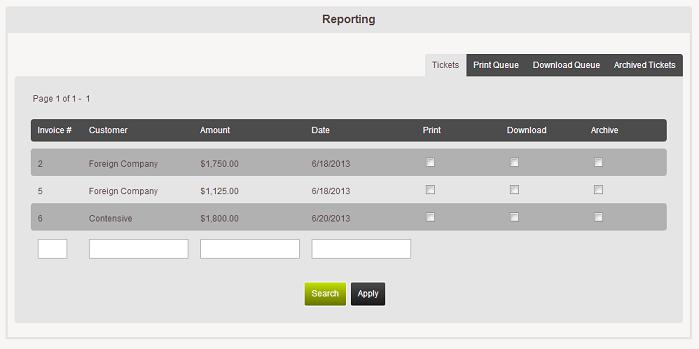 Click on the Print, Download or Archive box and then click APPLY to transfer an invoice to the PRINT QUEUE, DOWNLOAD QUEUE OR ARCHIVED TICKETS TAB.
You will then click on the PRINT QUEUE to print the invoice, the DOWNLOAD QUEUE to download the invoice, or ARCHIVED TICKETS to see tickets that have been ARCHIVED. When you click on the PRINT or DOWNLOAD QUEUE, you will see READY in the status field when the print or download is finished processing. Click on READY to print or download the invoice. If you are done with an invoice and want to delete it from your print or download queue, click the box next to the invoice and then click UPDATE QUEUE.