Purpose
The Forum enables you to post discussion topics and allows multiple website visitors to contribute to the material posted. It is an online discussion site where visitors to your web page can hold conversations in the form of posted messages. They differ from chat rooms in that messages are at least temporarily archived.
A forum can be open or closed. For open forums, anyone can read the forum postings, but in order to add to the discussion, they must create an account (if they don?t already have one) and login. They register by clicking the REGISTER button and entering a minimum of First Name, Last Name, email address, display name and password. They may now participate in open forums. For closed forums, only users belonging to certain groups are able to login and participate.
How to Install the Forum Add-On
Click here for information on Installing Add-Ons.
How to Add the Forum to a web page
When you are on the web page where you would like the forum to appear and are logged on as an Administrator, you will select the EDIT option from the menu. Next, click the paper/pencil icon. This will take you to the Edit record for your page, shown below: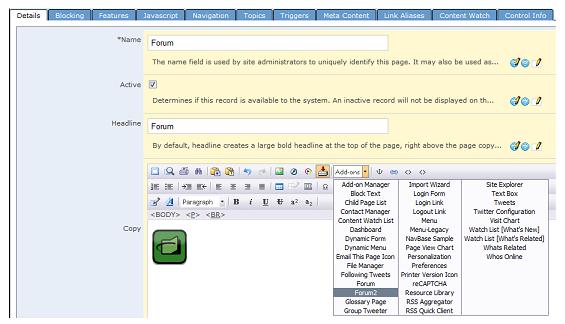 On this screen put your cursor in the Copy box, click on the Add-on drop down menu and select Forum2. An image with the Contensive logo will appear in the Copy Box. Click OK at the top of the page to save the forum to your webpage.
How to Add New Forums
When you are on the web page where the forum screen appears (see below) and are logged on as an Administrator, you will click NEW FORUM under any existing forums.

You will then see the screen shown. On this screen enter the Forum Title and Description. Also choose the Moderator Group if there is one, and click on Block Forum if this is open to only certain groups. Click ADD FORUM when you are done entering information.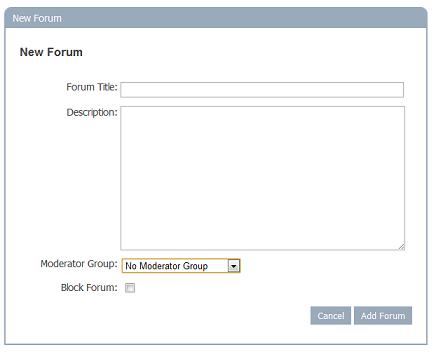 How to Edit/Delete Forums
When you are on the web page where the forum appears, you will login as an administrator and select the EDIT option from the menu. Next, click on the paper/pencil icon next to the forum you wish to change. This will open an edit record for that forum as shown below. Change the copy in the field you want to revise and click OK to save changes. If you want to remove that forum, click DELETE RECORD. To edit the moderator group, click on the FEATURES tab and choose the new moderator group from the drop down menu. Click OK to save changes.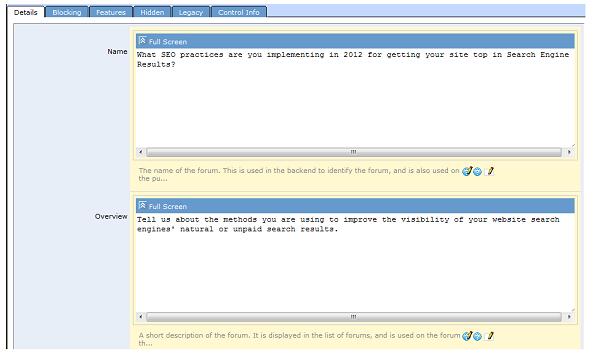 Blocking Forums
Only people in certain specified groups can view or participate in closed forums. To set up a closed forum, you can click on the Block Forum box when you first add the forum. Then to specify which groups are able to participate, you would go to the forum record (as described above) and click on the Blocking Tab. You can also change a forum from open to closed (or vice versa) here by clicking on the Enable Blocking box on the screen below. Click next to all groups that you want to have access to the forum. Click OK to save changes.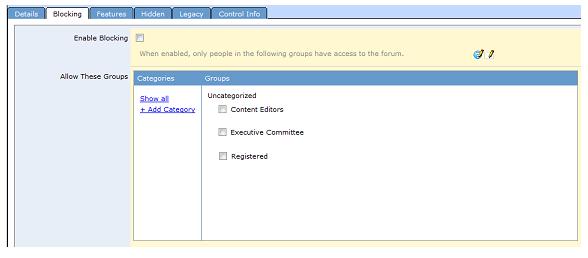 Posting to Forums
To participate in a forum, users must first login. Next they will click on the Forum Topic to post to a particular forum, which opens up a screen similar to that below: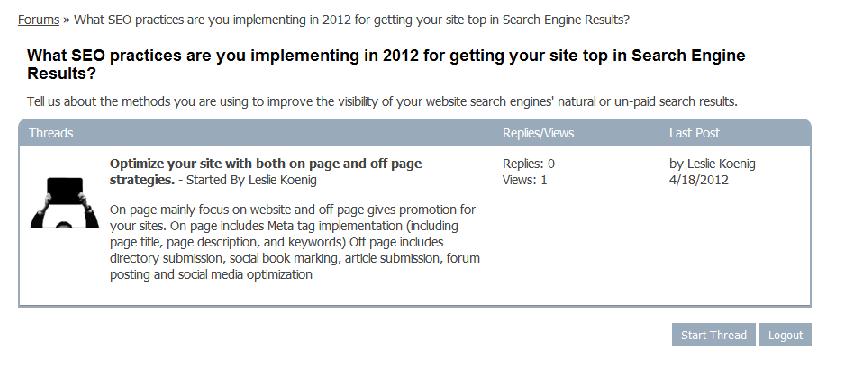 Here participants can reply to a current thread by clicking on it and then on ADD REPLY. They will then enter their post and hit SUBMIT REPLY. Instead of responding to a current thread, visitors may also start a new thread by clicking on START THREAD. They will then see a screen where they can enter the Thread Title and Post. When they are done they will click on START THREAD.