Content Definitions are specified to control who can make changes to a specific record. The current content definition for any page can be found in the page record under the CONTROL INFO tab in the field labeled CONTROLLING CONTENT. For most pages PAGE CONTENT will be specified in this field.
If you want to allow a certain group to have access to only some pages for editing, you can add child content definitions under a category already specified on the website. To set up a child content definition, go to the ADMIN section of the site. Click on TOOLS and then CREATE CHILD CONTENT DEFINITION. You will see the following screen.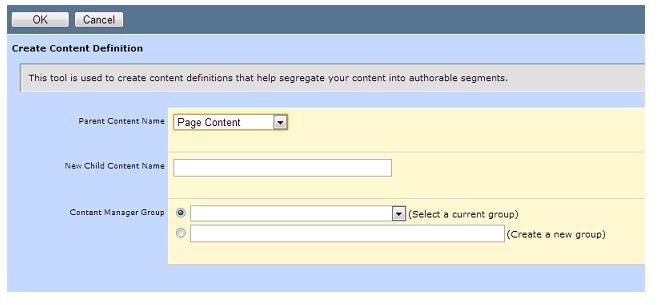 Here you specify the parent content name, usually PAGE CONTENT. You will then set the name for the new content definition (type of content you want the group to have access to) and specify an existing or new group that has access to this content. Make sure you add people to the group who you want to edit this type of content.
When you set up a child content definition, people in the group specified can only edit pages with that content definition. In addition, anyone in groups with editing rights for the parent content definition will also be able to edit pages with the sub-definition.
After you set up the content definition and groups who can edit this definition, you will go to the page that you want this group to be able to edit. Login and click on EDIT. Go to the CONTROL INFO tab on the page. In the CONTROLLING CONTENT field there is a drop down box that will have any content definitions you created as specified above. Choose the content definition that applies to the group you want to authorize to edit the current page. Click OK when you are done to save changes.