The Contact Manager allows for flexible searching of site users. To find a specific person or group in your database login as an ADMINISTRATOR and click ADMIN HOME. From there, click MANAGE USERS and CONTACT MANAGER as shown below.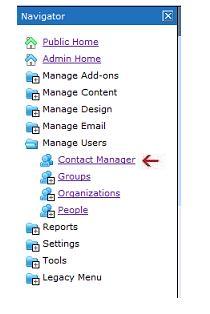 Click NEW SEARCH at the top of your screen. From here you can choose which fields or which groups to search for the individuals you are looking for. To choose an individual based on specific criteria in the record, click the circle next to INCLUDES and type the text, such as the person's last name, in the text box. Or, to find all people in a certain group, click on the GROUPS TAB and place a check mark in the group(s) of interest. Click SEARCH at the top of the screen once you have specified desired search criteria.
On the search results page, a number of Actions can be performed on the Site Users returned in the search based on the Target Group selected from the drop down menu.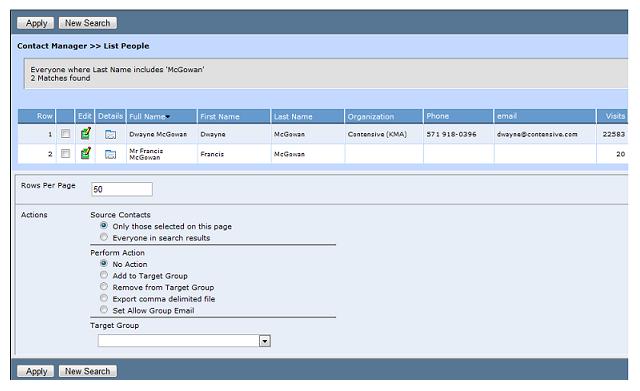 The Source Contacts section determines which users returned in the search are affected by the applied action.
Only those selected on this page

can be used if the search returned more records than was set in the field Rows Per Page

Everyone in search results

is used if the selected action is for all users returned in the search.
The Perform Action section allows bulk managing of routine Site Administrator tasks.
Add to Target Group

adds selected users to the Target Group selected from the drop down menu.

Remove from Target Group

removes selected users from the Target Group chosen from the drop down menu.

Export comma delimited file

exports selected users to a comma delimited (CSV) file. For access to the exported file, go to ADMIN HOME and click on TOOLS and then DOWNLOAD MANAGER to see a list of all downloaded files available.

Set Allow Group Email

allows all selected users to receive Group Email from the site. Users still need a valid email address in order to fully qualify to receive Group Email.