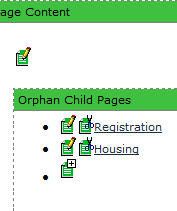 Pages within Contensive are arranged hierarchically with the section landing page as the parent and and all pages below it as child pages. To add a child page simply navigate to the "parent page" where you want your child page to be below and login and click on EDIT. Then click on the paper and "plus" (+) sign, which will be below the content of the parent page.
Once you click on the paper and plus sign the system will open a blank content record. Give it a name, enter your content in the "Copy" field and add any other attributes you want to the page and then click OK.
The system will save your record and return you to the parent page. You should now see the name of the page you added in the child list.
Sorting Child Pages
In order to have child pages appear in a certain order, you must first specify how you want them to be sorted. To do this, login and click on EDIT. Next, click the paper/pencil icon to edit the page you are on. This will open the edit record for the page. Click on the NAVIGATION tab. Here you can select how to sort child pages. If you choose either option that includes "By Alpha Sort Order", you will then put numbers or letters in the ALPHA SORT ORDER field to order each child page. If it is possible that you may add pages between current child pages in the future, you can number the first page 1, the next page 10, etc. Click OK to save changes.