The AATB group search provides the ability to drop a search on a webpage for a specific group on the AATB website. To show up in the search, there must be an active people record, the person must have the group checked in their record, and if there is an expiration date set in the groups tab, it cannot be before the current date.
To place the Group on a web page, go to the page, login and click edit. While editing the page, put your cursor in the copy box and select GROUP DIRECTORY SEARCH from the Add-On drop down menu. Click OK to save changes.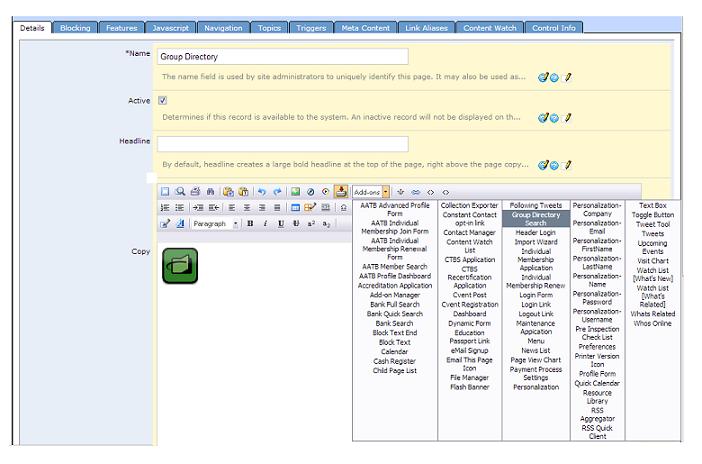 When you first place this add-on on a webpage, you will see the following message:
Administrator: Please select a group from the Add-on's Options to enable the search.
Because this add-on is set up to enable searching for one group only, you must specify the group before the search shows on the page. To do this, login and click on ADVANCED EDIT. Then click the wrench to the left of the "Group Directory Search" and then click the drop down in the GROUP field. Select the search group you want to place on the webpage and then click UPDATE to save that group.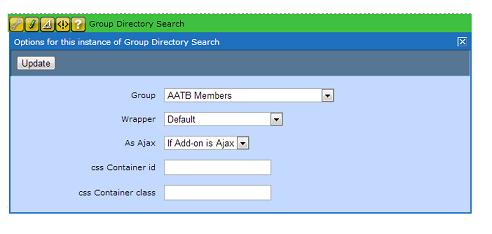 Next, click on ADVANCED EDIT to turn off edit mode. Now you will see the search screen below when you choose "CTBS" from the group drop down: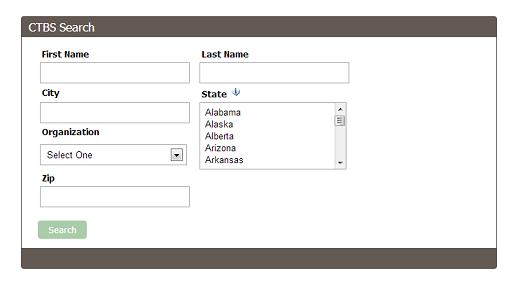 On this screen, the user can search within a specific group by first name, last name, city, state, organization or zip code.